The Geftakys Assembly in Hastings, Nebraska
Leaders: Dave Zach, Mark Millard
---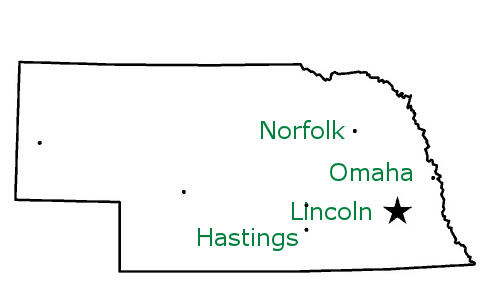 Dave and Marsha Zach live in Hasting, Nebraska. Sometime in the 1990's Mark and Rosemary Millard were sent to Hastings as Workers from Fullerton. Dave and Mark were the Leading Brothers.
Dave runs the cabinet shop begun by his father. Marsha was the recipient of a large inheritance. The Zachs made a substantial contribution to the purchase of the Commonwealth house in Fullerton, which became Tim and Ginger geftakys's sisters' training home, and was later sold. The Zachs also provided initial financial backing for Remedy Drive band and the Cuernavaca property.
The first Geftakys ETT (Evangelistic Training Team) of single college students and teens, led by Danny and Kimber Edwards, went to Hastings and Calgary, Alberta, Canada.
Here is a letter from Mark Millard to the Editor in April, 2004:
"Just thought I'd give you an update on what is happening here in Hastings. As of about three weeks ago we stopped meeting as a church here. What was neat is that as we got together and talked about where we were and where we were going, and a number of us sensed that God was wanting to do something new.

"This last year we've seen more visitors than ever before. We've grown in many ways, learning afresh what it means to be a child of God. Yet it was one of the hardest years in some ways also. There was real unity as we decided that it was the best thing for us at this time.

"We are currently visiting other churches, looking for a new church home. Since it is such a small town and we are so close, we see or talk to each other about what we are finding. You can pray we each find the place that the Lord has for us.

Mark Mallard (former Leading Brother)
It is said that the building provided for the Assembly by Dave and Marsha Zach is now for sale. Rod and Barb Zach and Kandy H. have relocated to Grand Island from Fullerton. Rod and Kandy teach in a Christian school there.
---