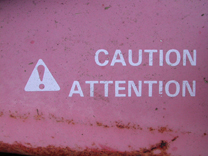 Current Concerns
Although most of the Assemblies have disbanded, concerns remain about the following matters.
---
Former Geftakys Assemblies
The former Geftakys Assemblies that continue to meet* are mum about their previous association with the Geftakys ministry. Most are home meetings, although the Placentia Assembly is still meeting at the "Placentia Round Table" facility, under the name "Placentia Christian Fellowship." All the groups prefer to deny any association other than "just a gathering of Christians".
No doubt most of the folks in these groups are sincere. But abusive leadership practices and teaching are still in place, as attested by a college student who came into the group several years after George's excommunication, and left a year and a half later. They continue to perpetuate milieu control by forbidding people to read this website or speak with former members.
These groups are still conducting outreaches to recruit new members with home Bible studies, studies on college campuses, and Sunday evangelism in local parks.
Former Assembly Leaders
There is also concern about former Assembly leaders who are no longer in association with a continuing Assembly, but are becoming involved in other churches. Some of them are still motivated by the elitist Assembly mindset. They believe that they know the Bible better and have greater vision of what the church should be than other Christians.
They are often well-received, because they appear to be very spiritual, model Christians who are willing to take on responsibility in the church. Pastors are pleased to put them in positions of influence as Bible study leaders, Sunday school teachers or mentors.
But these are people who did not leave the Assembly because they discerned error or spiritual abuse. They left after the revelations of George and Betty Geftakys' moral failure. Many of them are still quite confused about justification and sanctification, and don't know it. They may have character issues, since they modeled themselves after George Geftakys, who presented himself as a super-spiritual modern day apostle, but exhibited narcissistic and even sociopathic behaviors.
Some of the leaders attempted to keep their Assemblies going, but were forced to step down by the members or because their congregations dwindled. Two examples are Omaha, NE, and the San Fernando Valley, CA. The leaders did not understand that their leadership was harmful.
Unless these men have repudiated the abuses, humbly mended the relationships they have left behind, and have corrected their doctrine of salvation and the church, they will bring into a new church the spiritual elitism and performance-based spirituality of the Assembly. Leading indicators would be whether they are open about their Assembly past in a new church. Do they freely admit problems, and seek mentoring? Do they clearly repudiate Assembly false teaching? Do they refer people to this website? Until they do, they are still stuck in the unhealthy Assembly mindset.
George Geftakys

George Geftakys died in August 2014. He continued to be a concern to the end. He never admitted or repented of his immoral behavior, nor of failing to stop his son's domestic violence. He gave at least one seminar to several Assemblies that were still loyal to him for a time, and was conducting a weekly Bible study and Sunday meeting in his home in Redlands, CA. G. Geftakys had apparently begun all over again with a few folks who followed him out of the Riverside Assembly--after being disciplined by the elders of three churches and the majority of his own Assemblies for immoral and unethical behavior.
People were cautioned to beware of his aberrant teaching, his bent for taking over other ministries, his appeals for financial support for himself and his son David, as well as other issues addressed elsewhere on this site.
Women were also cautioned against his romantic advances. His entree was that he needed an assistant, for example with correspondence, or organizing his library. This led to spending a lot of time together, taking breaks to go for coffee, accompanying him to meetings, etc. He would begin to mention how God had spoken to him about her, and push for immoral intimacies. And things went downhill from there.
See also "Current Assembly Status", "An Open Letter to Assembly Folks: Thesis section and Assembly Leaders section, and "Kristin's Story: Introduction".
*Continuing former Geftakys Assemblies: Placentia, Sacramento, West Los Angeles, Daly City (San Francisco), Chicago, Annandale, San Luis Obispo, Fullerton, Pasadena, Riverside, San Diego, Charleston, Otukpo.
Next: Challenges Facing Former Members »
---