Abraham Simpson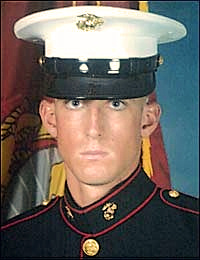 Marine Lance Corporal Abraham Simpson, eldest son of Jim and Maria Simpson, formerly of the Fullerton assembly, was killed in action in Fallujah in Al Anbar Province, Iraq, on November 9, 2004. He was assigned to 3rd Battalion, 1st Marine Regiment, 1st Marine Division, I Marine Expeditionary Force, Camp Pendleton, CA.
Services for Abe were held November 27 at Calvary Chapel Chino Hills, followed by a procession through Chino and a traditional military service at the Riverside National Amphitheatre. Over three thousand people participated in honoring him.
California Governor Arnold Schwarzenegger issued a statement regarding Cpl. Simpson: "There is no greater sacrifice than giving one's life in defense of others. Lance Cpl. Simpson answered the call of duty and his service to our country will be remembered and honored by us all. Maria and I send our heartfelt condolences to his family, friends and the community of Chino." Capitol flags were flown at half-staff in his honor.
Below are articles, links to pictures, and a series of emails the family sent out to friends during Abe's tour of duty.
---
Steven Sedory sings "I Can Only Imagine" in tribute to Abe Simpson at the 2009 Veteran's Day Memorial at Calvary Chapel Chino Hills.
Abe Simpson obituary in the Inland Valley Bulletin
Banner in Abe's honor on the American Heroes Tribute website, it showing this incredible quote from him:
"If it happens to anyone, it would be better if it happens to me, because I know where I'm going...I want to be infantry, to share with someone who needs hope, or to take a bullet for someone who needs more time."
Fallen Heroes tribute page
Abe's essay, written in his senior year of high school, about a turning point in his life
Pictures Abe sent home from Iraq
---
Chino Newspaper Article
This newspaper article was based on an interview with the Simpsons soon after they were notified by the Marine Corps that Abraham was fallen in action.
Inland Valley Daily Bulletin
Chino Marine killed in Iraq
By MONICA RODRIGUEZ, Staff Writer
Friday, November 12, 2004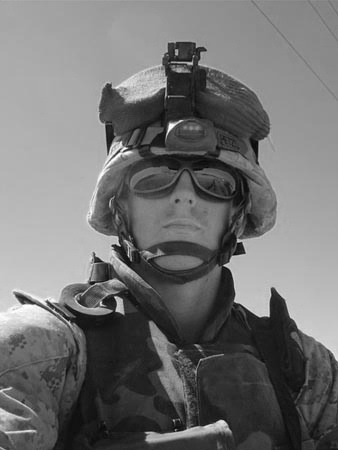 CHINO - Abraham Simpson was a responsible young man, deeply spiritual and always ready to listen to a friend in need.
He was also a United States Marine who died in Iraq this week.
The 19-year-old Lance Corporal from Chino was killed Nov. 9 in combat in Al Anbar Province, Iraq, the U.S. Department of Defense said in a statement released Friday.
"He wanted to be an influence everywhere he went and he believed God was going to use him in the Marines," said his mother Maria Simpson.
Abraham was focused. He wanted to be a Marine and then eventually to become a police officer, his mother said.
"People asked why he wanted to be in the Marines," she said. "He said he wanted to be part of the best."
Abraham graduated from Southland Christian School in Walnut in 2003. In November of his senior year, he signed up for the service.
An avid hiker, the Eagle Scout arranged to leave for boot camp in August 2003 after taking part in a few important events: Boy Scout camp, a hiking trip in the Sierra mountains and the Eagle Court of Honor ceremonies.
In June, Abraham left for Iraq. He wrote often and sent photographic images of where he worked and lived with his fellow Marines of the 3rd Battalion, 1st Marine Regiment, 1st Marine Division, I Marine Expeditionary Force, Camp Pendleton.
Among Abraham's duties were working with Iraqi police and helping train them, his mother said.
In the short time he spent there, Abraham killed Iraqis, and saw comrades killed themselves, his mother said. In his letters, the family could see him maturing.
On Nov. 1, Abraham e-mailed friends and family.
"He said they would be going to Fallujah," Maria Simpson said. "He wanted to be part of the effort to rid terrorists out of Fallujah."
He asked that they watch the news.
Then, on Wednesday morning, Maria Simpson received the news of her son's death.
While standing outside her home with one of her sons, she noticed a van drive by with uniformed men inside. As it slowed past her house, she told herself they were probably looking for a home that wasn't hers.
"My heart was starting to beat faster," she said.
The van stopped, and two Marines got out.
"I knew they were coming here. I knew what they were here for," she said.
James Simpson encouraged his three sons to serve their country.
He said what his son and other soldiers are doing is important, and that parents should back their children if they wish to join the military.
"Please encourage your son to serve with honor for a just cause," James Simpson said. "I hope there aren't too many more gold stars (for parents of soldiers) but I'm proud of ours. I'm proud of our son."
He said the support of their friends, neighbors and community has been a great comfort to the family.
Outside the Simpson home Friday morning, friends assembled Christmas care packages for Abraham's fellow Marines.
It's a project the family started weeks ago.
"It's good for us right now. It's almost a therapy for us," said Kim Broer, a friend who helped prepare the packages.
She spoke of Abraham as "wise beyond his years, but every much the kid next door."
Ever the point man, he was voted senior patrol leader of his 80-member Boy Scout troop, and quickly earned the respect of the other boys and adults, she said.
Jacque Gibbons, 21, who met Abraham through church, said the young man was a willing listener.
With him "you felt you didn't give back as much as you received," Gibbons said.
Even while in boot camp, he made the effort to write and keep in touch, Gibbons said.
"There he is in the middle of preparing for service, and he took the time to write," she said.
Monica Rodriguez can be reached by e-mail m_rodriguez@dailybulletin.com or by phone at (909) 483-9336.
---
Family Emails
December 4, 2003
"Abe went into the Marines in August and is having a blast doing all that guy stuff. Our pastor prayed for him and another fellow he met in boot camp that goes to our church during the service. It was really neat. Everyone stood up as soon as they got up there. It is so nice to know that there are so many people praying for him and appreciative of what he is doing."
February 12, 2004
"He graduated from School of Infantry on Tuesday and is now stationed there at Camp Pendleton about 1 mile inland from area 52 where he was previously training. He is in the weapons platoon and will be going to Iraq in June to live in a town about 100 miles from Baghdad and work with the Iraqi police. He was trained as a mortarman but in Iraq they will be doing regular infantry stuff as there is no need for mortars at this time. One thing he is pretty excited about is that he will be learning to drive a Hum V."
July 3, 2004
[This is the first email the family received from Abe in Iraq.] "Hey mom its me. I don't know if you've gotten my letters yet, but I'm doing good. The heat isn't bad anymore and now we have a fan in our room and a couple coolers to keep our water cold. I'm doing pretty good with the Iraqis, I'm learning their names and they all know mine. I've got my DVD player back now so we're gonna watch a movie tonight. I left it here at the FOB with Scott. He'll be surprised when he comes back today and finds it missing. Samuel is getting more and more interesting everyday.
I finished a memory stick and a battery for my camera but I picked up the charger today so I'll be fine with that. Corporal Perea took my knife and held it to my throat today, but then he let off as soon as Zinn took the picture. We mess around a lot and are pretty laid back when we're by ourselves in "The Pit", our nickname for our new home. I've been sharing with a lot of the guys in my squad. Last night I let Gomez borrow that little Bible Shadrach gave me while he was on firewatch....I appreciate all you guys at home and I love you. I'll call when I can and continue to write. Love, Abe"
November 1, 2004
"We just got a call from Abe. Monday Oct. 25 they were playing football when a mortar round was fired into their compound. One of their corporals was killed and 6 other guys were wounded. Abe happened to be inside looking at pictures. The next day they closed down operations at that location at Al Kharma, and now Abe and the other guys are at the FOB (forward operating base). Abe said it's a much safer location, they are not mortared every night and being shot at every day, and they have a chow hall with a TV (news, etc.) internet, and access to the phones to use their calling cards.
Thank you so much for your continued support and prayers. Corporal Oliveira had a wife and a baby that was born while they were over there. Please pray for this family. Abe said the other 6 that were wounded will be okay, but probably not returned to Iraq. One of them was his buddy Jason Gomez."
November 12, 2004
There's no easy way to say this, but Abraham was killed in action in Fallujah on Tuesday, November 9. He was involved in a firefight. This is all we know so far.
Ever since the Marines came to inform us Wednesday morning, we have been overwhelmed with love and support from so many friends and family that we have not been able to go through our Rolodex to make phone calls and let people know personally, which is what we would have wanted to do.
Channel 7 News included a nice memorial to him yesterday, Veterans Day.
It will probably be about 1 week to 10 days before he arrives home, and I am guessing the service for him will be around Thanksgiving-sorry about that. We will let you know. We will have a service at our church Calvary Chapel Chino Hills, he will be buried at the National Cemetery in Riverside, and we will return to the church for a reception. I was thinking we might have a memorial time for sharing by friends and family the night before or something. These are just our thoughts for right now, but I will let you know when we know for sure.
Thank you so much for your friendship and support. Love is eternal, and we have been overwhelmed with love and support at this amazing time.
Bless you,
Jim and Maria
---