Obituary for Bruce Barrett
Bruce's sister Becky Ogorek posted the following on Bruce's Facebook page:
Here is the obituary that will run in the South Bend Tribune for my brother Bruce. A service to celebrate his life will take place on Saturday, March 26 at 1:00 pm in Mishawaka, Indiana.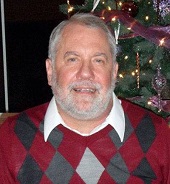 Bruce Owen Barrett, a mighty warrior for Christ, has gone home to a hero's welcome. Bruce, son of Owen and Phyllis Barrett, left this earth and was welcomed into heaven on March 2, 2016. Bruce was born on April 16, 1949 in Mishawaka, Indiana. He graduated from Mishawaka High School in 1967 and then attended technical school for two years in Louisville, Kentucky, where he trained to become an electronics technician. After school, Bruce joined the Army and was stationed in Ft. Collins, Colorado. While in the service, he was in a car accident that left him a quadriplegic, just two weeks before his 21st birthday. From the accident to his passing, Bruce never murmured or complained or asked why me. He simply decided to live his life to the fullest. Two years after the accident, he moved to California, where he met his wife, Laura Barrett (Case), who he married on November 23, 1979. She survives as do both his parents, his brother Brent (Sally), and sisters, Beth Madigan, Becky Ogorek (Keith) and Brenda McCabe (Dan).
Bruce was in a wheel chair for 46 years, yet he showed us all how to walk through this life with joy and love and humor and dignity. Bruce loved God, His Word, and His people. One of the highlights for his mother and sisters was a weekly conference call where they studied the scriptures and prayed together. Bruce was also active in his home church in Mt. Shasta, California, where he lived and often hosted prayer meetings and Bible study in his home. His passing will leave a large hole in many lives and he will be greatly missed. A memorial service to celebrate Bruce's life will be held at River Valley Community Church in Granger, Indiana on Saturday, March 26th at 1:00 pm. In lieu of flowers, please direct any gifts to honor Bruce to the Salvation Army.
---