Wellspring Retreat and Resource Center Updates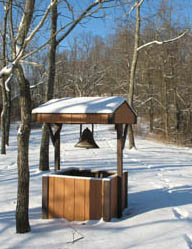 August 14, 2009
December 22, 2008
January 28
January 23, 2007
November 18, 2006
November 4, 2006
October, 2006
---
August 14 We are saddened at the news of the death of cult expert Dr. Paul Martin of Wellspring Retreat and Resource Center from leukemia. Our hearts go out to his family, the Wellspring staff, and the many, many former cult members whom he helped, including a number of former Geftakys Assembly members.
---
December 22, 2008 Prayer request: Dr. Paul Martin, founder and director of Wellspring, was hospitalized recently for pneumonia, and was discovered to have leukemia. Chemo has begun and he will remain hospitalized for at least six weeks. Please pray for him and for his wife at this difficult time. Send cards and other expressions of sympathy and support to P. O. Box 67, Albany, OH 45710. Wellspring will continue in its capacity to help survivors.
On another note: Wellspring is currently offering a reduced rate for those in need. A "scholarship" reduction of 65% is now available every month for those qualifying for the reduced rate. We strongly recommend that former Assembly members give this serious consideration (no matter how long ago you may have left the group - Steve and I went 7 years later).
---
January 28, 2007 One of the editors went to Wellspring with her daughter. Benefits of that counseling will be appearing soon on this website.
---
January 23, 2007 Update The older teens benefited immensely from Wellspring. One of them is like a different person! The mom has her true pre-cult self restored and is now able to get on with life.
---
November 18 Update: We can now tell you that in addition to a former worker, you have been helping a family of nine. Five of them returned home today from two weeks at Wellspring Retreat and Resource Center. Some of their comments are, "It was fantastic!" "Even better than I had hoped," "I can't wait to get home and start putting what I've learned into practice." The three older teens will be going after Christmas.
A former Worker has also returned with the tools to deal with the black-and-white thinking that has been a huge stumbling block to getting on with life. Similar (to the Assembly) is not the same! Thanks to your generosity, Wellspring was able to help these folks. A shortfall still remains, however.
---
November 4 Update:
We incorrectly announced that all the funds had come in for the folks who urgently need to go to Wellspring. Brian Steele received this email from Dr. Paul Martin this week:
Brian,

We have accepted this family on faith next week that we will have the necessary victims assistance funds for their treatment. So far we have raised about $1500.00 towards their treatment. We will not be able to meet expenses for payroll, utilities, overhead if we do not have a minimum of $5000.00 towards their care. I do not know what you can do except pray and pass the word to all those concerned. I thank you for all your efforts so far.

In His Grace,

Paul
Brian forwarded this message to us, and said, "I've pledged regular donations to Wellspring for the next 6 months to help close the shortfall." If you can help, send donations to the address above.
---
October, 2006 Request for help: There are several former Assembly members who urgently need to go to the Wellspring Retreat and Recovery Center. Dr. Paul Martin, director of Wellspring, has personally contacted Brian Steele about this need, and Brian is putting out an S.O.S. He is a former member of the Santa Barbara Assembly who went to Wellspring himself after he left. He says, "The time spent at Wellspring was HUGE in my recovery.... Yesterday I got a call from the director of Wellspring, Dr. Paul Martin, saying that there are several people who have left the Assemblies who are desperately seeking help from Wellspring.... I have personally made a donation and told Dr. Martin that I would solicit help from other ex-Assembly members."
This is not a fund-raising gimmick. Wellspring's office regularly mails out solicitations for funds to former guests, and this website does not pass these on to readers. This is a unique situation involving specific individuals, known to us, whom Dr. Martin is very concerned about. The cost is $7,500 for each person to attend the two-week intensive recovery program, plus travel expenses. These former "saints" urgently need financial assistance. If you can help, tax-deductible donations can be made directly to Wellspring Retreat and designated "Victims Assistance Fund: The Assembly". Mail them to:
Wellspring Retreat and Resource Center
P.O. Box 67
Albany, OH 45710
740-698-6277
(Receipts from Wellspring will be marked "General Fund", but the office manager assures us that all gifts designated "The Assembly" are applied specifically to that sub-account.)
This announcement stimulated insightful discussion on the Assembly bulletin board October 12-25, 2006.
---