K. Gordon Neufeld on Recovery
---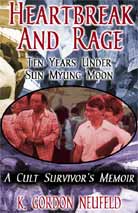 K. Gordon Neufeld spent ten years in the Unification Church. After leaving, he completed an M. A. in creative writing, and wrote a book, Heartbreak and Rage: Ten Years under Sun Myung Moon, a Cult Survivor's Memoir. The introduction to the book contains an excellent explanation of mind control that discards the image of "mindless robots" and incorporates instead the very helpful concept of "mental roadblocks". Dave Sable describes one aspect of residual Assembly mental roadblocks in his article, A Healthy Assembly Afterlife.
Neufeld also wrote, Cult Fiction: One Writer's Creative Journey Through an Extreme Religion. One of the books he details is The Handmaid's Tale, by Margaret Atwood, which has now been made into a TV series. Also covered are Nineteen Eighty-Four (Orwell), Darkness at Noon (Koestler), One Man's Bible (Xinjiang), Three Continents (Jhabvala), Oyster (Hospital), Heavenly Deception (Brooks), and Heart of Darkness (Conrad). He also mentions Cat's Eyes and The Handmaid's Tale (Atwood), Invisible Man (Ellison), Imaginary Friends (Lurie), A Darker Place (Laurie King), Animal Farm (Orwell), Foreigner (Rachlin), and Mind Games (Spinrad). Books like this shed light on what was wrong with the Assembly system itself, as distinct from what was wrong with G & B.
---
Note from Mr. Neufeld: "Dear Ms. Irons, Thanks for doing this. Your website looks very professional and I am happy to have these pages available for public viewing."
---