Geftakys Assembly Documents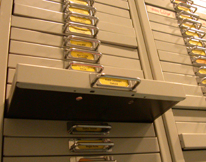 Most of the documents, publications and notes from the Geftakys Assembly and "the Work" archived in this section were approved for use and distribution over the years.
There are two compelling reasons for preserving this archive. The most obvious is that original documentation allows the Assembly to speak for itself and helps people form their own assessments.
The second is that the Assembly-born-and-raised generation may need to investigate their origins at some point. They will need not just opinions and judgments, but original documents to help them come to terms with their roots and why they have been so deeply impacted, to form a better understanding of why their parents did what they did. To date, this website is the most accessible archive of Assembly material; submissions are welcome. The Oral History Department of California State University at Fullerton also maintains a repository of Geftakys Assembly materials.
---
The Four Anchors was the main Geftakys Assembly discipling tool. The series was framed for potential recruits as foundations for the Christian life. Its hidden agenda was to persuade Christians that the Geftakys Assembly was the closest thing to a New Testament church (classic 'bait and switch') and necessary for Christian perfection. Former Assembly members will recognize wrong beliefs ('mental roadblocks') that still plague them.
---
Sometime after 1989 Ginger Geftakys wrote a pamphlet called Child Training for God's Servants. The plan outlined in the pamphlet sounds almost innocuous at first; that's because it does not spell out what is meant by the phrase, "use correction." That was understood to mean spanking, applied according to a specific method called "The Cycle of Training."
---
The Torch and Testimony was the bi-monthly magazine of the Geftakys ministry. It's statement of purpose provides a telling glimpse into G. Geftakys's view of his ministry. Tom Maddux recounts an anecdote about the origin of the statement and makes several pointed observations about it.
---
Timothy Geftakys wrote a tract justifying the Assembly practice of not celebrating Christmas. Steve I. makes a few comments on how the tract misapplies Scripture passages. With Tim's original tract we have included a link, recommended by Dave S., to an article in World Magazine, Why December 25? The origin of Christmas had nothing to do with paganism. The author cites historical facts that point to a different conclusion.
---
The Heavenly Ladder: A Morning Prayer, by George Geftakys, is a one-page version of the Cycle of Devotion. It was published years after the booklet, The Heavenly Ladder. A companion Evening Prayer was also distributed.
---
The Selfer's Prayer originally appeared in the book, The Handbook to Happiness, by Dr. Charles Solomon. Betty Geftakys introduced it into the Assemblies in the late 1980's. Its use in the Assemblies was very different from Dr. Solomon's original intention. A "selfer" chart was widely distributed sometime in the 1990's in conjunction with often-given workshops on how to deal with the self life given by Betty and Dan Notti.
---
George Geftakys distributed a chart titled This Ministry that diagrams his view of his ministry. The center, the inmost core, is the "Vision." A student from the Fullerton class on "The Testimony to Jesus" comments on the chart and its use.
---
The diagram and notes on " Called into the Fellowship" show how, even though the Assembly kept no formal membership list, a person definitely had to make a decision to join. Eternal implications were imputed to that commitment and it was irrevocable.
---
The "Daystar" was an evangelistic pamphlet (quarter-fold 11x17) that was published in two editions in 1977. This issue was used as an invitation to a home Bible study in Costa Mesa, CA.
---
Teen Team counselors were instructed, with the use of the chart, Training According According to God's Standard, how to deal with misbehavior or failure to keep the rules.
---
"Living in Our Home" was produced by George and Betty Geftakys in 1985 as a training manual for those who were in charge of brothers' and sisters' houses (communal living situations). In the future, a more detailed analysis needs to be done of this document. Suffice it to say at this point, that it is a formula for turning people into brow-beaten, over-worked, obsessive-compulsive perfectionists. Notice the repeated occurrence of the words "excellence" and "exact."
---
A schedule sheet was required for everyone living in a brothers' or sisters' house. Here is one for a young man working a full-time professional job.
---
A favorite Fenelon quote was displayed as a plaque in the Irons' "House of Peace." It's been added here because it was so typical of the thinking, although it wasn't actually an approved Assembly document.
---
The Prayer to Change My Way of Thinking that was distributed in the Assembly articulates a Catholic belief, i.e. that it is what I do that confirms my calling and election, not my continuing trust in Christ.
---
The Faith of the Son of God chart is ostensibly about imitating Christ's humility in obedience to God the Father described in Philippians 2:6-8. In actuality, it was a twisting of scripture to pressure people by guilt into submitting to George and the leadership.
---
Sometime in the 1970's George gave a lecture on "The Administrative Throne," which seems to have been part of a series. We have no notes, unfortunately, but we have a diagram. It gives some insight into the paths of George's thinking, because he considered it significant enough to have the zodiac elements in it hand-painted around the chalk board in the lecture room in his home in Fullerton.
---
A campus worker in the midwest sent this letter to students involved in the campus Bible study. It was written in the fall of 1999 and illustrates the level of control that the Assemblies and the campus work sought to have on others.
---
A bookmark was distributed by Betty Geftakys, showing a poem by Tersteegen on one side, and a prayer of self-abnegation on the other. To quote from the comments: "Notice on side two the very first thing on the list to be delivered from is the desire of being loved. God's whole intention is not to extinguish this desire but to fulfill it in Himself. The emphasis on self-abnegation is very Buddhist in its essence. Desire is to be decreased to zero by the Noble Eightfold Path of ego-reduction. It is a program for the transformation of human nature, but it is far removed from the transforming power of the love of God."
---
Cover art and text of Chapter 1: Stanzas 3-6 of George Geftakys' poem, Apocalypse XII.
---
In 1983 George wrote a letter from Kenya to his former secretary Beth. It gives almost no indication of his previous romantic infatuation, but is full of his narcissism cloaked in spiritual language. (This scan is a large PDF file--1.3 MB-- in George's handwriting.)
---
Steve Irons prepared a detailed prayer list for himself to lead each All Night of Prayer. Here is one for December, 1989. As the first page shows, the requests focused on the Assemblies in the US and Canada. It really drills down and shows the scope and extent of the Work and the Assemblies as they existed not long before the Irons left in March, 1990.
---
Many seminar brochures are available, but two are posted because of special significance: the Spring Seminar 2000 because "Kristin" refers to it, and GG's last seminar, Winter 2003. He was excommunicated less than three weeks later. Did he really know "the depths of God"?
---
In April, 2002, while on a "Spring Journey", George deemed it necessary to issue a bulletin of specific instructions to the full time Workers. Notice George's writing style in this document. Obviously, it did not pass through a team of editors.
---
The Workers presented Maurine Mayo with a beautiful certificate of appreciation painted and lettered by Rand B. and signed by all the workers when she retired from the Work in 1974 following a difficult illness.
---