Updates
March 8, 2018 Dawn Smith has a TED Talk about the group she grew up in. Daniel Teater (former St. Louis Assembly) posted it on his Facebook page, where it has gotten several comments.
---
May 22, 2017 David Geftakys died from kidney failure. At his request there was no funeral. He was buried in the Philippines.
---
May 4, 2017 Daniel Teater, who grew up in the St. Louis Geftakys Assembly, was interviewed on a "Redemption Walk" podcast. He talks about how he came to see God differently and is now engaged in conciliation ministry.
---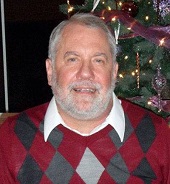 March 2, 2016  Bruce Barrett, from the Fullerton Assembly, went home to be with the Lord. His sister Becky posted this obituary on his Facebook page. Bruce and Laura were part of the Fullerton Assembly. For many years Bruce worked editing the tape transcriptions of George's seminars for publication.
---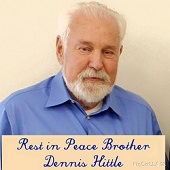 August 12, 2015 Dennis Hittle passed peacefully from death into Life at his home in Fullerton. He was seventy four. Funeral arrangements were private. Dennis was a Vietnam veteran of the Air Force, and was buried with full military honors at the Riverside National Cemetary. His family published an obituary in the Early October edition of "The Fullerton Observer". Former Assembly members remember Dennis on the Facebook "Geftakys Assembly" page. Many of us have fond memories of Dennis. He was a gracious brother.
---
August 10, 2014 George Geftakys died on this date, after slipping into a coma earlier in the day. He was buried at Riverside National Cemetary. Elizabeth Esther Geftakys Henderson wrote about her grandfather's passing on her blog and on her Facebook page.
---
In 2014 Elizabeth Esther wrote a memoir, Girl at the End of the World: My Escape from Fundamentalism in Search of Faith with a Future. Elizabeth grew up in the heart of the Geftakys family's intense Bible-based ministry. She recounts with poignant clarity how certain experiences deeply affected her, spiritually as well as emotionally, and takes the reader with her into the turbulent but healing waters of her recovery.
---

A post on the Rick Ross forum reports that in 2008 Tim and Ginger Geftakys, Mark Miller and Mike Struven established a 501(c)(3) non-profit organization, "Pilgrims Provisions Ministries". The purpose as stated on the PPM website is to support Christian ministries, particularly in connection with education, orphans and missions. The organization solicits financial contributions, volunteer talent, and long and short term onsite workers...(more »»)
---
A former Assembly member and Worker surfed back to the site recently, and was pierced by the soul-searching question, "Why did we go along? Why didn't we speak up?"
---
From "Works Righteousness by Any Other Name Still Stinks":
My only hope on the Day of Judgment for any positive outcome is the finished work of Jesus Christ. If God has welcomed me into his family by grace, if he is "happy" with me, it will be because of Jesus and what he did for me plus nothing else. On that basis and on that basis alone, there will be no condemnation on that day.

Nor will there be any regret. Jesus will not frown at me and chasten me for wasting my life. At that moment, it will all be about him sacrificing his life for me and taking it up again. Period.

It will be about his dedication to his Father's will, not mine. It will be about his zeal to complete the work his Father gave him, not mine. It will be about the faithfulness by which he followed through all the way to the cross for me, the ever-faithless one. His love will be celebrated, not mine. His obedience, not mine. The Good News of what he did for me, not any story about anything I have done for him.

Get that straight, and there will be no need to rev up the troops with guilt-inducing appeals warning us about wasting our lives and having to face a disappointed Savior.
---
Dr. Maria Szalavitz, co-author of several books with Dr. Bruce Perry, has this observation about how traumatic discipline affects the development of the nervous system in young children:
As we discuss in Born for Love and in The Boy Who Was Raised as a Dog, startle responses and skin conductance offer insight into what's going on in the brain's stress response system.

While there are genetic tendencies that affect these systems, they are also highly responsive to early life experience. If that experience is nurturing and empathetic, the system will wire up one way; if it is harsh and frightening, the same genes will produce a very different wiring....

....If you discipline your children in ways that are stressful to them, their stress response systems will change. Children may become more fearful and often, they will have a more easily triggered startle response.
For more on how trauma affects children, read Dr. Perry's article Stairway to Heaven: Children in the Crosshairs of Trauma.
---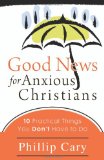 Phillip Cary's book sounds promising, Good News for Anxious Christians: 10 Practical Things You Don't Have to Do. The introduction, titled "Why Trying to Be Christian Makes Us Anxious", begins with the statement that God's commands are actually permissions. Read the introduction here.
---
Notes: The word 'cult' is used on this website in the sociological sense, referring to the practice and conduct of groups, not their beliefs or doctrine. Read more about the use of this word here ». // The assemblyboard is an archived forum on the Geftakys Assembly ministry having no administrative connection with this website.
---