New Directions Since 2003
What are FAM's (former Assembly members) doing and thinking today? Also photos and prayer requests.
• Anannandale - Becky W.
• Arcata - Stephen Beniesau
• Champaign - Wayne Matthews
• Fullerton - Betty Geftakys
Ginger Geftakys
Abe Simpson, AK
Becky E., AK
Connie Wellik
Dave Mauldin
Dave Sable
Kathy C.
Joe Miller
Tamilla Palmer
• Huntington Beach - Amy C.
• Middleburg, NL - Ruth De Visser
• Omaha - Gretchen W.
Anonymous AK
Remedy Drive
Sjogren boys
• Ottawa - Flora
• SFV - Al Hartman
• SLO - David M. Geftakys
David E. Geftakys
Gordon W.
• St. Louis - Joe D.
Dan Buss
Nancy Teater
• Tuscola - Brinda McC.
Stephen McC.
Brad Mathias
• WLA - Dave Kennedy
---
April 10, 2011 David Michael Geftakys, son of Judy and David, is a musician. He has just come out with a new EP album, 'Lines in My Hands'.
---
December 6, 2010 Stephen M., son of Jim and Brinda, from the Tuscola Assembly, went to be with the Lord today, following surgery for another brain tumor. He lived for thirty-five more years after his first inoperable brain tumor was diagnosed at the age of three in 1975. Here is a note from Brinda. Please pray for the family. Stephen's obituary was published in the Champaign, IL, newspaper.
---
January 4, 2010 Amy Russ Cahill, from the Huntington Beach Assembly 1989-1991, has written, performed and produced several pieces of music.
---
June 8, 2009 This from Dr. Sunday Ochenjele: "Greetings from Otukpo! It is with joy unspeakable and humble adoration to the Almighty God that Mary and I announce the birth of our baby boy. He came on Monday 08 June, 2009 @ 8.45 am through ultra-short labour lasting 20 minutes. Both infant and mother are in excellent condition. There is serious argument who is the happiest for his coming - Nath, Wayne, Emma, Dave, Mum or Dad? The Lord has indeed filled our mouth with laughter. Naming will be on Monday 15 June, 2009. All are invited to cerebrate with us the faithfulness of the Almighty God @ #2, Isaac Ugbabe Crescent GRA, Otukpo, Benue State, Nigeria."
---
August, 2009 Dr. Paul Martin died after a brief battle with leukemia. Wellspring is continuing in its capacity to help survivors, and here's a heads-up to those who have considered attending the two-week in-house recovery program: Wellspring is currently offering one scholarship each month at a 65% rate reduction for those who qualify.
---
April 16th, 2009 Stephen Beniesau, a former Assembly member from Arcata, CA was walking in the evening and was struck and killed by a vehicle. He was with his wife Amy at the time (they have no children), who witnessed the incident. Please pray for the Beniesau family and everyone else who was affected by this tragedy. The memorial service was Saturday, May 2nd at Trinity Baptist Church in Arcata, CA.
---
March 2, 2009 Nancy Ann Teater, formerly of the Saint Louis Assembly, went to be with the Lord on February 27 following a long battle with chronic pain. Information and the option to leave a message are available on her memorial website. Our thoughts and prayers are with Ken and the family.
---
May 5, 2008, The Redlands Daily Facts newspaper had an article on Saturday about a multi-cultural festival at Plymouth Village, where George and Betty Geftakys live. George is still up to his old ways of misrepresenting the facts. He claimed he was a native of Greece and apparently recited the Lord's prayer in Greek! There is an anonymous comment about this on the "George and Betty Geftakys" page.
---
November 9, 2008, Connie Wellik, formerly from the Fullerton Assembly (way back in the day - 1970's!), has been on staff as a minister in her church in Ventura for 20 years. This Sunday she taught from the pulpit for the first time. She sent this response to Rachel Geftakys's article The 3HO Dysfunctional Family - How I Figured It Out.
---
August, 2008, Dave Sable talks about how he has been helped by the recovery movement.
---
January 21, 2008 Dave Mauldin posted this update: " I have just finished to the final interview of my Oral History Project on the Assembly. I feel extremely privileged to have obtained the current-member-leader interview. As this material will be held in archives at Cal State Fullerton and be made available for research and possibly publication, I feel as if I have completed the most significant work of my life!
While working on the interviews both interviewer (myself) and narrator were amazed at the insights revealed in our discussions. Also the spontaneous laughter was priceless. I know now that research of this kind will be a big part of the rest of my life. A wish I have would be for current members and former members to be able to find some common ground to communicate on as I have on this project!"
---
May 2007, Ruth de Visser, daughter of Nelie and Simon de Visser of Middleburg, NL, went to be with the Lord after a long illness. Here is a picture and her testimony (in English).
---
An unnamed FAM has a blog, TH in SoC: Who broke my church? Who broke my faith? Who can fix this mess?, on a number of important issues in society and in evangelicalism, as well as a couple of posts on his/her Assembly experience.
---
Gordon W., formerly of the San Luis Obispo Assembly, shares what he has learned about personal evangelism since leaving the Assembly. He also recommends an MP3 by Mark Driscoll on "The Emergent Church".
---
After retiring from teaching, Tom Maddux got his M.A. in Christian Apologetics from the school of Professional Studies at Biola University. He is now an on-line instructor for the Reasons Institute, an arm of Dr. Hugh Ross's Reasons to Believe.
---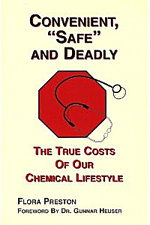 Flora, formerly of the Ottawa Assembly, has suffered from chemical sensitivity since at least age 13. She became completely disabled in 1987. She has written a book, Convenient, Safe and Deadly detailing the health impacts of our chemical lifestlye, which was published in 2006. Read her article, The Value of a Human Life, and visit her website, Health Risk Navigation, Inc.
---
AK Becky E, formerly of the Fullerton Assembly, went on a three-month mission trip to Africa, after completing training at Torchbearers International in Capernwray, England. She gave us permission to post the emails she sent home to family and friends.
---
An AK who had a wild and rocky time after the family left the Assembly in 2003 found the US military a productive place to channel the hyperdrive. "There is nothing I love more than the challenge of doing well..."
---
The following obituary was published in the Orange County Register: "David S. Kennedy 41, passed away October 13 2007. Survived by wife, Christine; children, James (11), Rachel (9), Ben (5), Faith (3); mother, Peggy, and sister, Kathy...." The Kennedys were in fellowship in the West LA Assembly prior to 2003. Please pray for the family.
---
Tamilla P. is married to Asela; they reside in Hong Kong. She has published a book about her experiences, This Mysterious Love: Hard Lessons Learned by a Black Girl in China. Tamilla also contributed the excerpt from Henri Nouwen's book Out of Solitude, in which he makes the point that being is more important than having or doing. Follow Tamilla on Facebook.
---
Report from Annandale "Overall, the post-Assembly folks here in Annandale are doing well. They're using their many gifts to serve God in new places and new ways. Music, missions, youth ministry, small group Bible studies, hospitality, prayer, & drama are just a few areas that come to mind when I think of the ministries the families and couples here have been involved in. It didn't happen overnight, but I really think we're all moving on in positive and healthy ways." --Becky W.
---
Information on Dr. Sunday Ochenjele's medical endeavors in Nigeria is profiled, and he explains his position vis a vis the Assembly. Wayne Mathews, Champaign, IL, talks about his current medical missions project.
---
November 9, 2004, Marine Lance Corporal Abraham Simpson, nineteen-year-old son of Jim and Maria Simpson, formerly of the Fullerton Assembly, was killed in action in Fallujah, Iraq. Abe had a strong Christian testimony, and wanted to serve his country in a good cause. In October, 2005, Maria Simpson found an essay Abe had written in his senior year of high school, which shows a turning point in his life. Here is the 2008 newsletter from Jim and Maria. Their middle son, Paul, has joined the Marines. All Hartman has alerted us to a website put up by Xerox Corporation to give everyone a way of thanking our troops overseas.
---
Dan Buss, formerly of the St. Louis Assembly, was taken to glory in 2007. He left some last words for the saints.
---
Several former Assembly members have attended Wellspring Retreat and Resource Center and received real help. The article explains the ongoing need for donations to Wellspring to give these folks the treatment they need. (Donations are tax-deductible and can be designated specifically for the Victims Assistance Fund: The Assembly.)
---
2006 There are a few "third anniversary" updates on St. Louis folks.
---
Kathy C., who was involved in the Fullerton Assembly from its beginnings until the 1980's, tells about finally finishing college in 2006.
---
Gretchen W. of Omaha wrote in 2004 about the steps their family has taken toward healing in the past year and presents a penetrating analysis of the former Omaha Assembly.
---
In 2004 two of the Sjogren boys in Omaha were raising money on a regular basis for what they said was an orphanage for children with AIDS. A number of comments have been made on this by Brent T. and "Anonymous in Nigeria." 2/08 Update: It has come to our attention that Herbert in Tanzania is involved in an orphanage ministry. Possible the Sjogren boys contributed to him, rather than to Samuel. As of 2009, GG was still preaching in Tanzania at Herbert's invitation.
---
Remedy Drive, now based out of Nashville, is running their band like a business and expanding their fan base. Their My Space is here. This seems to be their biggest Facebook page. You Tube shows David Reisinger doing a segment on Remedy Drive for My Scene. Here is another You Tube clip.
---
Joe D. writes about getting involved in Pro-Life Ministries. "The goal of this article", he says, "is not to bash George Geftakys but to take a fresh look at a critical issue that may have been largely ignored by us in the past."
---
Brad Mathias, who grew up in the Tuscola, IL, Assembly, tells about his second career in Christian music production, (after being a successful chiropractor), plus his plunge into seminary in 2005.
---
Al Hartman gives his testimony, from the time of his salvation, through his years in the Assembly, through years of discouragement after leaving the Assembly, and up to July, 2003 and his involvement on the Assembly bulletin board. Al is on Facebook.
---
Joe Miller tells about his time in the Assembly, why he left in 1991, and where he is now.
---