The Assembly in Omaha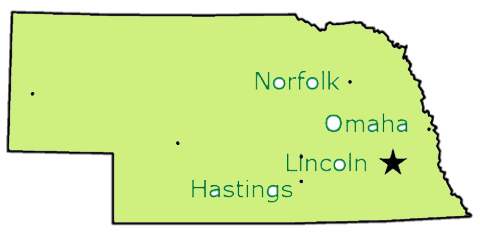 Mike Zach, who lived in Omaha, visited the Steinke home group in Norfolk when George Geftakys came through. He was very impressed. In 1975 he visited the Fullerton Assembly for a seminar, and stayed with the Irons in their Brothers House. They remember him standing around a lot with his arms folded, intently observing everyone and everything that went on in the home.
In 1976 Mike invited George to speak in Omaha to some people he knew, including Chuck and Mary Ann Miller and their large family. During a visit to the Miller home Chuck's daughter Pat re-dedicated her life to Christ.
"George bragged from that day on that he had led me to Christ, which did not sit well with my Dad, since he was there when I received the Lord in 1975. No amount of explanation could dissuade George otherwise. No surprise there.

"Betty also came to visit sometime during that spring. I remember how condescending she was about the food (good old Midwestern fare - fried chicken, etc.) that my mother served for everyone. I found this odd, but disregarded it. Shade of things to come.

"By that time, Mike and Cheryl Zach, the Zach sisters, my family (the Miller's), and others had come out of an Assembly of God church and were meeting for Bible study in my dad and mom's home. We were "ripe for the pickin'" as they say. I went out to Fullerton to George's summer school that summer as a result of meeting G and B.

"While I was in Fullerton George took over the meetings that were already ongoing in my parents home. Jim and Sheryl Hayman came to Omaha as Workers that summer also (1976). I think they were there two years. They were followed by David and Judy Geftakys. I remember David attending a lot of movies, especially during the Sunday afternoon meetings - because of his health, of course.

"[Chuck and Maryann left the Omaha Assembly in 1978.] Wayne and I were sent to Norfolk, NE as Workers in July 1983. Charlie and Sheryl Mather replaced us in Omaha. Leading Brothers in Omaha were Mike Zach, Mark Sjogren, Bill Himes, Mike Ward and John LeGrand. In December 1989 we were sent as Workers to Champaign, IL, to replace Bill and Kristi Bradbury who were being sent to West LA."
Further reading about the Omaha Assembly:
Gretchen W., Jon LeG. here and here, as well as others, have told of their experiences in the Omaha Assembly. Judy Geftakys wrote about her experience with Mike and Sheryl Zach.
In 2003 the Omaha Assembly leaders tried to keep it going, but the members left them. The Collapse of the Geftakys Ministry in Omaha details the demise of the Omaha Assembly.