Andi Ward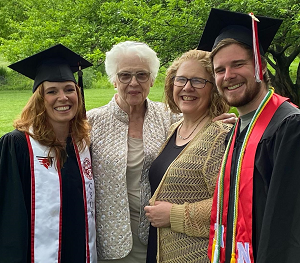 On May 30, 2021, Andi graduated from Cal State Northridge. She had this to say on her Facebook page: "It didn't really hit me until this morning that there is no homework left to do, no exams to study for, no texts back and forth with fellow students finishing up final projects. This goal that I have had for the longest time is finally complete.
"Sixteen years ago, unsure of how to graduate highschool as a homeschooler, I enrolled in my first community college to learn the subjects I couldn't do on my own. After graduating highschool I enrolled in UNL as a transfer student. A year later, I put my degree on pause and joined the military.
"While serving I took a few courses here and there and when I got out enrolled in community college once again, this time in California. I then moved to the valley and enrolled in Pepperdine University. After a year there I dropped out when the drinking and drug use got the best of me. After a five year run I finally got sober and spent a year digging deep and working on my mental health.
"Then I enrolled in CSUN. Last week I finally graduated with a degree in Kinesiology! It's been a hell of a ride and after all is said and done I wouldn't change a thing. It's fitting that I took my grad pics back in Nebraska where it all began. I am also super fortunate to celebrate this milestone with my youngest brother, Joe Ward ,who graduated with dual degrees in mechanical engineering and German. Hey mom, we all made it!"

---