Tim and Ginger Geftakys
---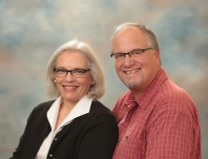 Tim and Ginger are very active at Kindred Community Church in Anaheim Hills, CA. Tim teaches one of the two adult Sunday classes, and one of the two men's weekly Bible studies. Tim and Ginger host a Kindred Shepherd Group in Orange. Ginger is the secretary for non-profit Pilgrims Provisions Ministries, organized by Tim and Ginger, Mark Miller, and Mike Struven in 2008 to benefit Livingstone Academy in Nigeria. LinkedIn lists Tim as an "Independent Sports Professional". Ginger is a lecturer at CSUF in the Elementary and Bilingual Education Department. Ginger sells her artwork and photography here, and can be reached at gingergift at aol dot com.
Information about Tim's and Ginger's Assembly involvement is referenced in the following articles:
Tim was called out to make a public statement when corruption was revealed in the Geftakys ministry
Tim and Ginger's knowledge of his brother's domestic violence
Tim's unorthodox theology
Ginger's child training pamphlet
Tim's pamphlet on the (non)Celebration of Christmas
A letter illustrative of Tim's instruction to Campus Workers in the Geftakys ministry
Tim's early history (first three paragraphs)
Tim and Ginger's daughter Elizabeth Esther has written a memoir of growing up in the Geftakys family and the Assembly.
Tim and Ginger have never issued a public statement about where they stand in regard to the errors in teaching and practice in the Geftakys ministry. Nor have they privately apologized to folks who were badly hurt under their leadership. You can email the editor if this is concerning to you. The private Facebook group "The Geftakys Assembly" has a thread about Tim beginning on October 4, 2016. Elizabeth, daughter of Tim and Ginger, notes in the comments that Tim talked to the pastor at Kindred about his past Assembly involvement, and apparently the pastor visited this site.