The Placentia Assembly
Also known as "Placentia Christian Fellowship" from 2012 to 2017
The former Placentia Assembly continued to meet on Sundays at the Placentia Round Table until 2017, when they disbanded. They had a website which stated that it was founded on March 18, 2012 as 'Placentia Christian Fellowship'. Their long history as part of the Assemblies of George Geftakys was not mentioned.
Jack Hanson emerged as the strongly dominant leader, followed by Ron, Joe, Sterling, and Chris Sapia from the former Huntington Beach Geftakys Assembly. Kurt Byword and Tom Summerford stepped down from leadership and left the group. Tim and Ginger Geftakys attended for a time after they left the Fullerton Assembly, but have now moved on to Kindred Community Church in Anaheim Hills. Jack and Sue Sapia shared ministry in 'The Pastoral Corner' section. Jack goes by J. Robert Hanson now on Facebook and on his blog.
In addition to the Sunday worship meeting at the Round Table, Placentia Christian Fellowship had a mid-week combination prayer meeting / Bible study at the Hanson home. The method of Bible study remained the same as chapter summary in the Geftakys Assembly, but it was called '3D Bible Study'.
PCF had Sunday "Afternoon in the Park" outreaches. It was reported that they had a campus '3D Bible Study' at Fullerton Community College. The students in attendance set up a book table on Tuesdays with gospel tracts and invitations to the home Bible study.
Taking a name was a departure from the Geftakys principle (carried on from the Plymouth Brethren) of strongly opposing taking a name. Photos on the PCF website seemed to indicate that there were other changes as well, such as a worship band, and women without head coverings. The topic for the Sunday morning preaching service was announced ahead of time on the website.
In a departure from their Geftakys ministry background, PCF published a statement of faith. There was no reference to the foundational Geftakys/Brethren teaching on a split rapture, but there was a heavy emphasis on unity in the fellowship.
As Placentia Christian Fellowship was not forthcoming about their history in the Geftakys Assembly ministry, it was up to visitors to discern what other beliefs were in operation beyond the statement of faith.
Following George's excommunication from the Fullerton Assembly in 2003 the Placentia severred all ties with him. They remained in touch with several other former Geftakys Assemblies, notably the groups in Goleta, West Los Angeles, Pasadena and Annandale. Jack Hanson and Tim G. traveled to the east coast to speak at meetings in the Annandale Assembly. Samuel Ochenjele from Nigeria visited once a year.
Beliefs and Teaching at PCF
The "Highlights" section of the PCF Facebook page was a window on the teaching of the group. In 2012 there was a quote, "We are laboring to get to our heavenly home." This is performance-based teaching. A few days later a clarification was posted, "Getting into the Kingdom is not based on what we do, or how much we work, it is all God's way!" Bravo! The fact that clarification was needed indicates that Geftakys teaching still informed doctrine at PCF. How much clearer it would have been to say, "We are laboring on the way to our heavenly home, we are "serving the Kingdom", rather than "pursuing the Kingdom", "laboring" to get there.
Jack and Sue's 'Pastoral Corner' emphasized surrender as the key to the spiritual life. The tone was inspirational rather than stridently exhortative and threatening, as it was in the Geftakys Assembly days. The 'Quotations' page listed higher life teachers such as Finney, F. B. Meyer, McCheyne, G. H. Lang, Jessie Penn-Lewis.
What about Treatment of People?
Serious allegations have been made regarding the former Geftakys ministry. Significantly, Jack states that there is very little in his own life history that he would rework if given the opportunity to go back and make different choices. Presumably, this means that he does not regret his support of George Geftakys for thirty years nor his behavior as a leader in the Assembly system.
Brent T. said on the assemblyboard, about former Geftakys Assembly leaders:
"Zealous repentance...means public correction, and public change of behavior in a clear, exercised and unmistakable manner, for the purpose of correcting error and/or false teaching." For example, "I led God's people astray by refusing them access to the truth about George. I promoted .... "
To that list must be added, "I mistreated people, for which I deeply apologize." Jack has not done so with former members whom he treated badly and deeply offended.
The PCF site and Jack's blog give the impression of low-key humility. But judging from how Jack handled Samuel's visit in 2003, authoritarianism and intolerance of disagreement are still operative principles. At least one other former Assembly continues to maintain control Geftakys-style, as testified by a college student who experienced a painful exit in 2006 a year and a half after' coming into fellowship'.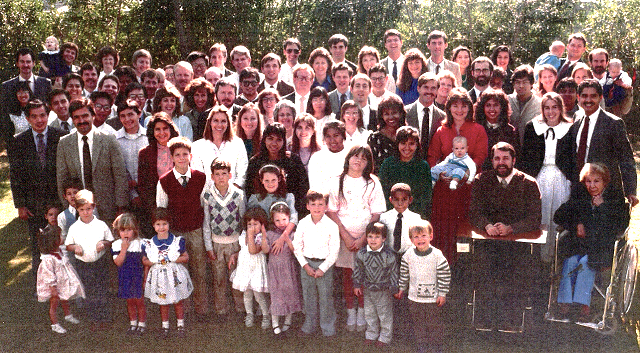 History
A Geftakys Assembly was begun in 1984 at the Round Table facility of the Placentia Women's Club to relieve crowding at the Fullerton Assembly. Leaders appointed by George Geftakys were Joe Bush, Kurt Byword, Tom Summerford, Jack Hanson (J. Robert Hanson), Sterling Bennett, and Ron Womack. As in all the Assemblies, the Placentia Assembly was not autonomous prior to 2003; the leaders were directly accountable to G. Geftakys, and sent the local tithes and offerings to Fullerton after paying for certain local expenses. Direction came from the Fullerton Workers meeting.